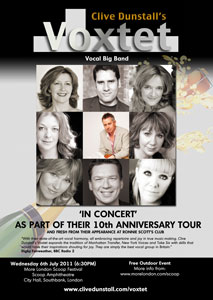 'Voxtet' will be appearing at The Scoop Festival on Wednesday 6th July 2011 as part of their 10th Anniversary Mini Tour.  Click here to download a Flyer.
The More London Scoop Festival is part of a four week festival in a wonderful open air amphitheatre by the City Hall on the Southbank.  'Voxtet' will be performing 2 sets between 6.30pm and 9pm. 'The Scoop' is situated between London Bridge and Tower Bridge on the South bank of The Thames. See http://www.morelondon.com/scoop.html for more info.  This is a FREE summer outdoor event. Great for family and friends. Bring a picnic!
Singers will be Donna Canale, David Combes, Yona Dunsford, Mandy Watsham Dunstall, Jacqui Hicks, Alison Jiaer,  Emer McParland and Andy Playfoot.