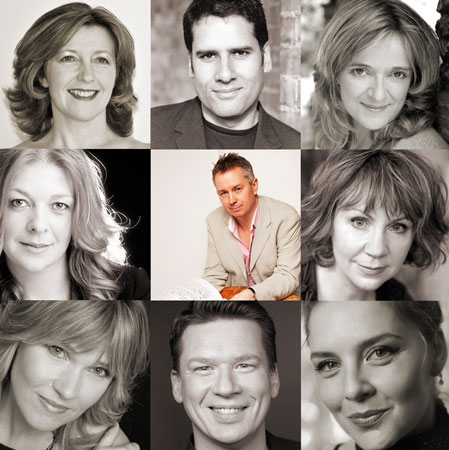 Wonderful Voxtet are a dynamic 'vocal big band' comprising 6 female vocalists, 2 male vocalists and up to 6 musicians (keyboard, sax/flute, bass, drums, guitar and percussion). Clive Dunstall is the founder and musical director of the band and also plays keyboards, arranges and conducts.  The music is diverse including swing standards, funk, soul and gospel. The songs are arranged especially for Voxtet with ensemble pieces including sumptuous harmonies and some featuring instrumental solos.  Influences include Take 6 and New York Voices.
Listen to Album Clips
Ruby Baby
Ticket to Everywhere
Gonna Build a Mountain
"With their state-of-the-art vocal harmony, all embracing repertoire and joy in true music-making. Clive Dunstall's Voxtet expands the tradition of Manhattan Transfer, New York Voices and Take Six with skills that would have their inspirations shouting for joy. They are simply the best vocal group in Britain. Concert promoters, jazz entrepreneurs or just those who love the job done properly. Miss them at your own risk!" Digby Fairweather. – BBC Radio 2.
VOXTET ARE:
Mandy Watsham Dunstall, Chantelle Duncan-Heath, Donna Canale, Yona Dunsford, Jacqui Hicks, Emer McParland, David Combes and Andrew Playfoot plus Clive Dunstall (Piano/MD), Dave Jones (Bass), Martin 'Frosty' Beadle (Drums), Pete Callard (Guitar), Nick Moss (Sax) and Corrina Silvester (Percussion).

NEW SINGLE: PROUD NOW AVAILABLE
Clive Dunstall's Voxtet are pleased to announce their new single 'Proud' to be released in summer 2012. Here is an excerpt of our unique vocal big band version of the world-wide hit by Heather Small/Peter Vettese to whet your appetite. The single has been produced by Richard Niles.
Click above to buy the single from iTunes.
FOLLOW VOXTET ON TWITTER AND FACEBOOK
Click images above to be taken to Voxtet's Twitter and Facebook Pages.
LATEST VIDEO: Recorded LIVE from The Scoop on 6th July 2011.
Snippets of songs from their 10th Anniversary Tour.
Playlist
1/ Feelin' Groovy.
2/ Love The One You're With.
3/ Shower The people.
4/ Where or When.
5/ On Broadway.
6/ Cockles and mussels.
7/ And The Angels Sing.
8/ Razzamatazz.
9/ Brand New Day.
10/ Gonna Build A Mountain.
11/ Not While I'm Around.
Reviews
SUMMER FESTIVAL STUNNER: When previewing in these pages a concert at The Bury, Chesham, by Voxtet, I recalled the words of jazz musician and radio presenter Digby Fairweather who described the ensemble as "simply the best vocal group in Britain". He was right.
Any of the audience who braved the cold damp weather on Tuesday last week (June 28th) to listen to Voxtet's part of Chesham Theatre Club's Open Air Summer Festival would agree. Here was ensemble singing of exceptional quality, from eight singers who tackled highly complex vocal arrangements, orchestrations in fact, backed by a six-piece group of equally skilled musicians.
As a former player in dance bands I find my ear attuned to listening for section work in music from groups, particularly big bands. Voxtet is just that, a vocal big band, very much in the tradition of Manhattan Transfer, New York Voices and Take Six, all inspirations for musical director and founder, pianist Clive Dunstall, who lives in Chesham and whose wife Mandy is one of the singers.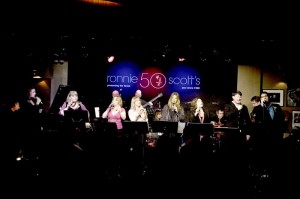 The Chesham concert was part of the group's 10th anniversary tour, which has already included an appearance at Ronnie Scott's the world famous London jazz club.
From the opening bars of Simon and Garfunkel's The 59th Street Bridge Song – better known as Feelin' Groovy – it was evident that we were present at something special. The singers performed with amazing precision. To pick out individuals would not be appropriate, they sang beautifully as a team and looked to be thoroughly enjoying themselves, too.
I will name them. They were Alison Jiear, Jacqui Hicks, Donna Canale, Emer McParland, Yona Dunsford, Mandy Watsham Dunstall, Andrew Playfoot and David Coombes.
Along with Clive on the keyboard were Nick Moss (reeds), Pete Callard (guitar), Dave Jones (bass guitar) and Tim Goodyear (drums) in addition to a guest percussionist.
It's difficult to pick out high spots from the programme but Sondheim's Not While I'm Around, from Sweeney Todd, Get Me To The Church on Time, from My Fair Lady, a superb Jacqui Hicks arrangement, Ticket to Everywhere, linking two Lennon and McCartney songs, Ticket to Ride and Here, There and Everywhere, and the Leslie Bricusse/Anthony Newley song Gonna Build a Mountain, all stick in the mind.
But there was not a weak spot in the programme. Voxtet gave us an eclectic mix of songs ranging from A Bright New Day, by Sting, with whom Clive Dunstall has been recently working, to the very traditional, but with a far from traditional arrangement, Cockles and Mussels.
Altogether a superb evening – now can we see them at The Elgiva please? Tony White, The Bucks Examiner, July 2011
"I love this band because they're so obviously a group of friends having fun; I felt I was eavesdropping on a party. They played – and sang – with their usual enthusiasm, whilst effortlessly demonstrating their superb technique." Voxtet, Jazz @ The Manor 2005
"Clive Dunstall has been working on his Voxtet project for the past 3 years. Voxtet is Clive's wish list of a Take 6-type singing group plus A-Team rhythm section – a SuperSax and LAVoices for the 21st century. The vocal group is: Donna Canale, Yona Dunsford, Jacqui Hicks, Alison Jiear, Emer McParland, and Sam Shaw, with Andrew Playfoot and Colin Skinner. The rhythm section is: Pete Callard (guitar), Nick Moss (sax), Dave Jones (bass) and the king of groove, Frosty Beedle, on drums. The whole album is a delight. Standout tracks are Ruby Baby, When The Sun Goes Down, God Bless The Child and Stevie Wonder's Too High. If BBC Radio were thinking of restarting a more modern style of Sing Something Simple, Clive Dunstall's Voxtet, singing something simply splendid, might be just the place to start." Paul Scott, Musician Magazine, Spring 2004