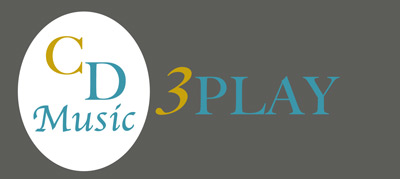 3play are a trio of highly experienced musicians available for both concerts and corporate engagements. Their versatility includes from background jazz trio to concert work, corporate engagements and backing cabaret. Music for the trio can be especially written and arranged and recorded if required.
3play+ is basically the trio + whatever other instrument(s) or singer(s) you wish to have playing with the group. Popular categories would be  saxophone/clarinet/flute. Trumpet/flugel. Trombone. Vocalist. (jazz, musical theatre, opera)
Listen to Clips

3Play
Beatles Medley
For All We Know
Is This The Way To Amarillo
3Play+
When You Wish Upon A Star (+ Sax)
Chim Chim Cheree (+Flute)
3PLAY Biography
Concert work
The John Betjeman Centenary Gala 2006 attended by H.R.Hs The Prince of Wales & the Duchess of Cornwall at The Prince of Wales Theatre in London?s West End presented by Barry Humphries. Clive Dunstall musically directed the evening, and with 3Play, principally accompanied Ronnie Corbett but also played for the entire all star celebrity cast including Hugh Grant, Joanna Lumley, Jools Holland and Stephen Fry.
Corporate Recording
Recording for Toyota launch campaign 2006.
Corporate Functions
3play has played at many London Hotels for various corporate functions including Cafe Royal (Piccadilly), Hilton (Park Lane), Mandarin (Knightsbridge), Millennium Gloucester (Kensington). 3Play have also played in various musical combinations (from solo piano to sextet) for several Cameron Mackintosh opening night and anniversary parties, including Les Miserables, Phantom Of The Opera and Avenue Q, and Dirty Dancin National Tour.
Jazz Clubs
3play have performed at several jazz venues including The BBC jazz club and have backed several jazz artists including Marlene Ber Planck, Jacqui Hicks, Gary Williams and Catherine Gang.